I wanna make you scream...
Not in a horrific 'jump scare' kind of way. No, more in the 'I'm having an amazing orgasm, so epic I need to vocalise it immediately' kind of way! And if calling out while you pleasure yourself is a little too much, then a soft moan will suffice! Have I sufficiently flogged that attempt to create a headline that covers both horror and erotica? Oh good... 😏 Onwards!
Happy Halloween! To celebrate I've got a spooky new release for you all to enjoy! It was a real hoot to write and I hope you enjoy reading it. More details – together with the usual array of promos, freebies and recommendations – can be found below the frisky witch!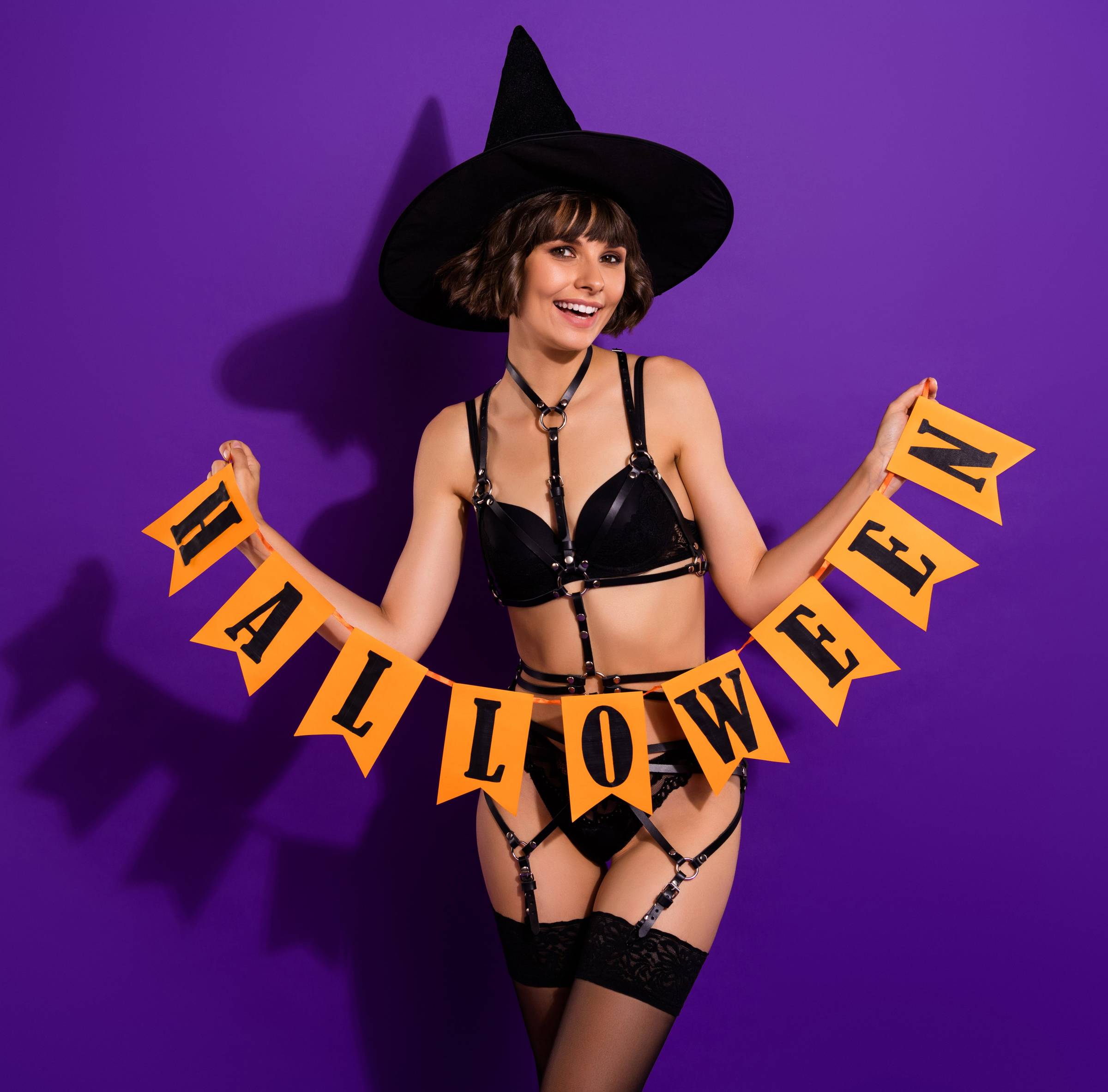 ---
You can't outrun 'sexy' fate...
---
What's it about?
It's a riff on the 'Final Destination' films. You might remember in those movies a young person would have a premonition of an awful accident and would then prevent their friends from getting caught up in the disaster. But after their miraculous escape, fate would find increasingly elaborate ways to bump them off. Well, swap 'bump them off' for 'bump uglies' and you have the plot of my latest. How do these horny youngsters find themselves in situations where they "accidentally" cum for each other? Read and find out! 😂
Where do you get your crazy ideas from?
Well, this one's down to @vanillaerotic who tweeted about the concept and then kindly allowed me steal the idea when I expressed an interest in writing it. The erotica community is generous like that!
What sexual scenarios does it cover?
Well, we have some peeping, cam sex, blow jobs, showering, lots of cum and tits, some traditional ploughing, some MFF, and a bit of anal for a change!
Tell me a secret about it
The main gang are all named after famous horror movie icons. If you tell me the seven characters that inspired their names (not all of them are identical - some are derivatives) I'll send you a free audiobook link as a prize. Simply reply to this newsletter with your answers...
Can I read an excerpt?
Oh, go on then. Here's a bit when a girl accidentally gives the wrong guy her first blowjob...
In her exuberance, she didn't notice that what she thought was room 169 came after immediately room 165 – or register that the final digit was barely hanging on to the door. She was definitely at the right room! Her key card was letting her in!
​
It was dark inside. Really dark. Only the barest of features were illuminated by the glow of the TV standby button. Her first instinct was to turn the lights on, of course. But when she heard the young man on the bed snoring slightly, she had a better idea. What better way to get your first blowjob from your girlfriend than by being woken up by it?! What would initially feel like a wet dream would turn out to be happening in real life!
​
Laurie quietly slipped out of her dress, leaving it in a crumpled heap on the floor, and approached the bed in her underwear, feeling around in the dark for the end of the mattress. From what she could tell, her boyfriend had followed her instructions and was apparently naked, although most of his body – including his top half – was covered by creased sheets. She had made him wait too long! But his semi-flaccid cock was out – she could just about see that. And he must have been playing with it until recently… it looked bigger than it usually did.
​
Laurie didn't want to waste any time or give him any opportunity to rouse too quickly. She wanted to be well and truly noshing on his member before he had a chance to fully awaken. He would think his dreams were coming true!
​
She scrambled onto the bed between his splayed legs and tried to gather his floppy appendage into her mouth. It was a struggle to get the evasive prize within her oral embrace but once it was secured between her lips and resting on her tongue, she got to work on it. She was completely inexperienced in how to administer a decent blowjob but figured simply the sensation of his dick being in her mouth would be pleasurable enough, and was encouraged to feel it begin to swell after just a few seconds.
​
As it grew in size and firmness, she was able to more easily control it, wrapping her tongue around the stiffening shaft and moving her head up and down on top of it as she gently sucked.
God, it felt big! Maybe because she was holding it in her mouth for the first time rather than her hand? As it reached full tumescence it was almost as if she was interacting with a different guy's dick, such was the feeling of girth. And she was surprised by just how much she was enjoying it. Maybe because there was no expectation on Jayce's part? Maybe because she had talked herself into enjoying it? Or maybe because her previous mental block was completely irrational… She could be one of those girlfriends that enthusiastically gave head after all.
Enjoying the preview? Get the whole thing here.
---
My novels and novellas
From $2.99/£2.79 or FREE with Kindle Unlimited
Something to suit all tastes (and fantasies!)
​
---
Too Hot for Amazon!!
Semi-incestuous tales over at Smashwords
Raised as brothers and sisters... Acting like horny teens...
​
---
A bumper crop of recommends!!
Lots to choose form this month covering a W-I-D-E variety of kinks. If something piques your interest then please consider supporting the author with a sale or some page reads 🥰
---
A selection of 'hands-free' erotica
Check out this collection of filthy audiobooks. What's the advantage of having both your hands free whilst someone talks dirty in your ear?
I couldn't possibly comment...
---
Show me the freebies!
Sign up to the newsletters of the authors below and you'll get to read an example of their erotically-charged work for free! And because it's Halloween, one of them is a seedy slide of monster erotica 😈
And a massive collection of free romantic smut. Hey, there's nothing wrong with a bit of sweetness as consenting adults pound away at each other! 😘
---
That's all folks!
You'll notice I didn't manage to get my usual Medium offering in this month, so I'll try to rectify that by having something for you in a couple of weeks (complete with free 'friend link' for being a subscriber).
Until then... stay kinky x