Greetings, my naughty subscribers
Is it really March already? How terrifying!! The short February always makes it seem like the year is barrelling along much faster than it probably is. And I blame the limited number of days in the second month for not having a new release for you on this rare occasion. The Taskmaster-inspired series starter wasn't quite ready for you all and will instead open April with a bang. Possibly a finger-bang... 🤭
So how can I make up to you all the fact that you don't have a new book to get tingly over this month? Well, I've decided to go completely mad and give you the first chapter of my epic age-gap saga 'The Fantasy List' for free! That's 10,000 words of smutty goodness from one of my best-reviewed titles.
I've also got a cover preview, some book recommendations and the usual freebies for your delectation. And a shameless plea to throw some pennies my way (smut pedlars gotta eat!).
Just scroll down past the blonde beauty with the bombastic boobs for all the details...
---
Exclusive cover preview!!
The Task Mistress is nearly ready for you...
I'm having so much fun writing this – as both a Taskmaster fan and as someone who loves setting up kinky scenarios in my writing. You don't need to be familiar with the Taskmaster TV show to enjoy what I'm coming up with but you're really denying yourself a good time if you don't check it out. A huge amount is on YouTube; take a look at this highlight reel to get a sense of the programme's vibe...
In the meantime, to whet your appetite, here's a glimpse of the first chapter's cover: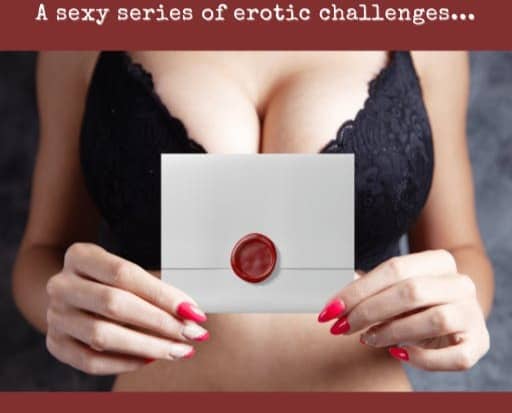 ---
Chapter 1 of 'The Fantasy List'
An exclusive subscriber treat just for you...
This probably isn't the way to run a business but I felt so bad for not having a new release for you this month that I've gone and made the first 10,000 words of my epic age-gap novel free for you lascivious lot to download!
Just follow this link to get the entire first chapter. You'll meet 18-year-old James and his saucy French teacher Mrs Parsons and discover the details of their first electric sexual encounter.
---
Show your appreciation...
...and help keep The Horn afloat!
You'll hopefully not be too shocked to learn that writing erotic fiction, Medium shorts and a fortnightly newsletter is a time-hungry endeavour. And while I truly appreciate every penny in royalties that your occasional purchases create, you'll also not be surprised to learn that "pennies" is very much the apt word! (Shakes fist at Amazon)
So I've set up a wee tip jar to help supplement my meagre earnings. This is just for people who can afford it – I know times are tough for many at the moment. But if you feel like the occasions I've turned you on, titillated you or sent you down a smutty rabbit hole are worth something, then even the smallest contribution would help enormously!
(Only if you want to and can afford it!)
---
My novels, novellas and collections
From $2.99/£2.79 or FREE with Kindle Unlimited
Something to suit all tastes (and fantasies!)
---
Too Hot for Amazon!!
Taboo tales over at Smashwords..
​
---
Aural sex (audiobook versions)
Have your smut read aloud to you
Nothing beats a sexy lady narrating a naughty story - leaving your hands free to do whatever you want...
​
---
This month's recommendations
A little bit of everything this month: A Marvel parody, a threesome, a HUGE boxset, a fantasy fantasy and finally a mega-collection...
​
---
Show me the freebies!
You skipped down here AGAIN?! I forgive you... Go on then, fill your boots with the 100% free smut! Just a mailing list sign-up away...
And here's a generous compilation of free stuff too...
---
That's all folks!
Phew, we got through a lot this month, eh? In a couple of weeks I'll have some juicy bargains waiting for you and then at the beginning of April I'll finally have the first chapter of the Task Mistress saga ready to go!!
Until then... stay kinky x