Salutations, my fruity fiction fans!
Hello everyone, and welcome to any new subscribers. For those that are new to my newsletter, here's a quick explainer: I ramble a bit at the top, suck you in with a picture of a topless woman preceded by some appalling alteration, tell you about a new piece of erotica I've managed to write or a sale I'm doing on one of my older titles, and then point you towards some notable reads by other smut authors and some freebies.
And as long-standing subscribers will attest, I stick to that format pretty rigidly twice a month! (Hey, if it ain't broke, right?)
This month I've got the second instalment of my new Task Mistress series ready for you all – and this one has some serious age-gap shenanigans (so I hope you like reading about young women getting frisky with grey-haired men).
There's also my usual selection of recommendations, compilations and freebies. So go ahead and scroll down past the cone-carrying cutie with the banging' boobs...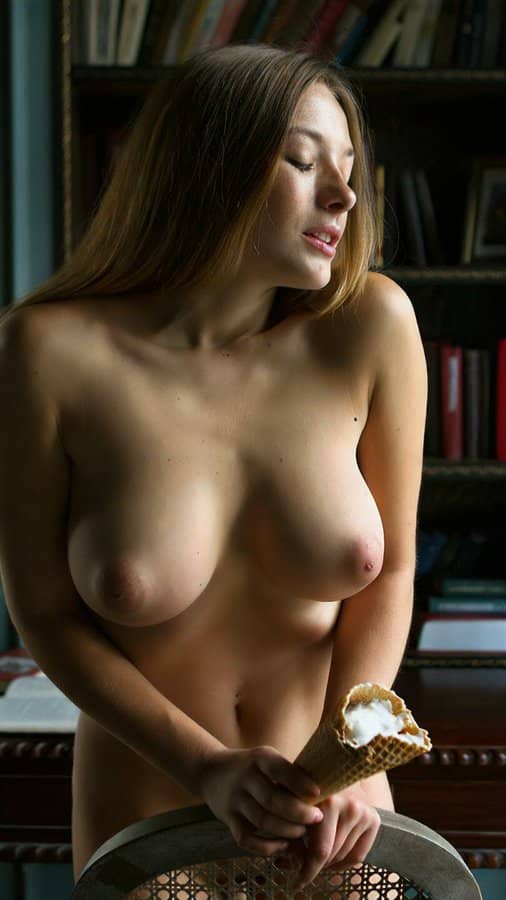 ---
Task Mistress continues...
---
What's this series about again?
Well, it takes inspiration from the British TV show Taskmaster (AKA: the best show on telly) but gives it a decidedly sexual slant. Four uninhibited friends are tasked with competing against each other to complete a series of sexy tasks in the most effective, imaginative or downright dirty ways. The first task was simple to ease them in: they simply had to enter a bedroom and use the available sex toys to reach orgasm as quickly as possible. But even that seemingly straightforward challenge resulted in three very different approaches...
And this chapter is all about age-gap sex?
Oh yes. The girls have a day to find the oldest partner willing to be filmed having sex with them. Unsurprisingly, there are some very keen older fellas out there who are more than willing to entertain the advances of a much younger sex-crazed girl!
Remind me who the main players are
Well, you've got the methodical and organised Alexis who has arranged the whole sordid competition – although she doesn't make much of an appearance in this chapter. There's Jessica, the busty blonde who loves to tease and flirt; Mary the soon-to-be-married bundle of brunette energy who acts before she thinks; and the quietly perverted Amanda whose icy demeanour hides a fiery passion for filth that matches her flame-red hair.
When's the next part out?!
You may have to wait a bit longer for that... I've got another project that needs my attention first, so Task #3 might be delayed a couple of months. Keep your eyes peeled around the beginning of July!
Of course, I'll give you the requisite heads-up in the newsletter!
---
Under the Spotlight:
'Free-use' with a twist...
File this one under 'slightly implausible but it could happen'. A sexy mature arts student hits upon an audacious idea for some challenging performance art: present herself semi-naked to members of the public with the invitation to do what they want to her. And film the results...
The intention was to make a statement about male entitlement; that men's first instinct upon discovering a beautiful, vulnerable woman with next to no clothes on would be to fulfil their sexual thoughts and desires.
Many do, of course. But what surprises Veronica is how much she enjoys it! How being leered at and groped by strangers is actually a massive turn-on! And how annoyed she gets when the one man she wants to take advantage of her insists on doing the decent thing...
---
My other novels and novellas
From $2.99/£2.79 or FREE with Kindle Unlimited
Something to suit all tastes (and fantasies!)
---
Too Hot for Amazon!!
Taboo tales over at Smashwords
A woman with a medical condition that gives her an insatiable sexual appetite stays with her happy-to-accommodate half-brother. And the revelation on his 18th birthday that a shy boy was accidentally swapped at birth pays unexpected dividends when his 'not technically related' sisters try to cheer him up...
​
---
Featured recommendation
With hubby's permission, a slutty wife tempts a hulking soccer coach...
Hank does these kinds of stories so well. You know, the ones where a husband reveals to his gorgeous wife that what would really turn him on would be seeing her get pounded by another man...
---
And some other books to get your pulse racing...
---
Show me the freebies!
You may remember I featured Mirror Secret Mirror quite recently but I feared it got lost among all the other freebies so I'm giving it another push here cos I think some of the stuff Jessica is putting out is really amazing - it's a free sample, so give it a shot!
And Zoey Adams is always good value for some gold old fashioned 'hot wife' shenanigans if that's more your thing!
And two sets of curated freebies for you below. SO MANY free titles collected here... take a punt on something you might not normally try, and you may discover a brand new kink you never knew you had!
---
That's all folks!
Yet another bargain to come later this month together with your usual 'friends link' to my latest smutty short on Medium. I really do spoil you!
Remember, if you feel so inclined, you can buy me a coffee if you enjoy receiving the newsletter but don't see anything you want to purchase right now. Every little helps!
Until next time... stay kinky x