Fun and Games...
I don't say this enough but THANK YOU for opening this newsletter every couple of weeks and clicking on the various delights I have to offer. It means so much to know that people enjoy what I do and gives me the impetus to keep up the pace with my monthly outpourings!
What's that? You're more of a Sub than a Dom? Er... ok. LAP UP MY OUTPUT, YOU PATHETIC WORMS! AND BE GRATEFUL FOR IT!!
Any-hoo, I've got the final book in the Task Mistress series for you this month – and it ends on a suitably explicit high! This one's a bit longer than the others because of all the sexy admin to get through. (Well, we need to know the score allocation for all the previous rounds, right?)
There's also news of a new collection, a plea to review my works and complete my survey (if you haven't already) and your usual selection of recommendations and freebies.
So, scroll down past the beautiful buddies brushing their boobs together whilst brandishing their bare buttocks for all the goodies...
---
Task Mistress #5 is here!!
And the Grand Final is suitably debauched...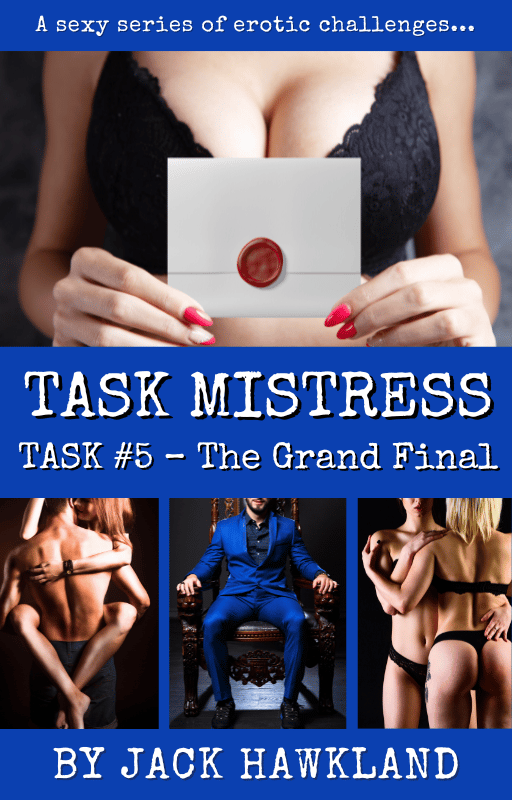 Inspired by the British TV show Taskmaster (a.k.a. the best comedy panel show on telly) this series has seen three fruity friends take part in a series of challenges that tested their seductive powers and their sexual prowess. They've completed four tasks and their efforts are now ready to be judged by a mystery host whose eyes are going to pop out of his head when he sees the footage Alexis has edited together!
But to determine the overall winner, he's going to have to do more than just watch...
Order one or more of the Task Mistress books by clicking below!
---
Pre-order now:
The Climax Collection
My forthcoming collection of short stories that originally debuted on Medium is now available to pre-order:
What's this all about, then?
I've curated 10 of my favourite stories that were previously published (but no longer available) on Medium and bundled them together in one awesome book!
Does that mean I've read all these stories before?
Possibly - given you're a newsletter subscriber. As regular readers will know, I offer free 'friends codes' to my Medium output in my mid-month broadcasts and these stories will have all been featured at some point.
So this collection is aimed more at non-subscribers - but I wanted to be clear with you lovely followers what this was so you didn't feel 'tricked' into a purchase...
Of course, having a bunch of my stories in a single book on your Kindle might make for a tempting purchase even if you've read some or all of them before! (And, let's not be coy, you'd be helping me out massively of you contributed to my sales...)
So what's included?
Secret Weapon - Pt 1: Thirsty college girl finds out her shy housemate is seriously packing
Hypno-Erotica: A patient discovers she has been all too willing to accept her filthy therapist's sexual suggestions
Grateful Graduates: A group of 18-year-old schoolgirls give their breast-loving teacher an unforgettable send-off
I Can See You: A peeping tom discovers he's not quite as well hidden from his neighbour as he thinks
Straight to the Sex: Not much of a plot – just an impatient man's desire to get dirty with a smokin' hot prostitute
Dirty Doctor: A busty family practitioner needs to keep her patient hard in order to give him a thorough examination
Super Strip Poker: A well-organised game of cards descends into a filthy exchange of sexual favours
Ask Amy: An agony aunt uses her column to describe how to give the perfect blow job to a curious reader
Perks of the Job: A new starter finds out that a sexy member of staff offers a unique form of stress relief to employees
Secret Weapon - Pt 2: She's had the starter - now it's time for the main course...
Pre-order your copy by clicking below!
---
Some humble requests...
I've got a really important ask for you all. And to butter you up, here's a picture of some gorgeous breasts barely covered by a patently under-sized crop top.
Enjoy that? Great! Now please go to Amazon and rate (and review) any of my titles that you've enjoyed. I understand it's not always feasible if reading books like mine is a clandestine pastime – but if you're not shy about leaving feedback I cannot overstate enough how a high star rating or - best of all - a positive review feeds into the algorithm to get my titles in front of more eyes. More eyes = more potential sales = more time I can spend writing filth. It's win–win for everyone! So if you've got good things to say about ANY of my books, PLEASE share them xxx
(But if you think a book is only worth 3 stars or fewer, then feel free to keep it to yourself - that algorithm goes in the other direction too! 😂)
​
Also, there's still time to fill in my very short survey (seriously, it should take a few minutes at most). Not only will it help guide my output but you'll also be in with a chance of winning creative control over my next Medium story! I'll randomly pick someone from those who answer all the questions to decide the topic / theme / scenario for my next short.
---
Check out some of my other titles
My library is growing by the month. Are there some titles you haven't checked out yet? There's a variety of kinks and fantasies to discover, all written in my inimitable (you heard me, Chat GPT!) style.
Here are just a few for your consideration...
From $2.99/£2.49 or FREE with Kindle Unlimited
For the full library, visit books.hawklanderotica.com​
---
Check out these other books...
Two solid recommendations this month!
Both April Cross and Alexa Sommers should be well known to erotica aficionados – but for those who have yet to have the pleasure, check out these two beautifully-written and red-hot titles.
---
Show me the freebies!
This month I've got ALIENS, CUCKOLD NOIR, VAMPIRES and a COLLECTION of shorts from the beautiful but depraved mind of Natalie Hothorne! And they're all free if you sign up to the newsletters!
And don't forget this collection of freebies. As always, new titles get added to promos like these every month, so scour in-between the familiar titles to make sure you're not missing out...
---
That's all folks!
I'm currently working on a new standalone story AND a new series, so keep opening these newsletters to get the heads-up on all things 'Hawkland'.
Remember, you can send me a tip if you want to reduce the likelihood of me deciding it's all too much and that I'm going to stop writing dirty stories (it happens occasionally - but generous fans stop the rot).
Until next time... stay kinky x