The art of smut...
Hello there loyal subscribers and new followers alike!
What have I got for you this month? Well, after worrying that I might not have a new release for your delectation I'm thrilled to announce that the first part in my brand new series is now available to feast your filthy eyes on. I've gone a little 'high concept' with this one (what else is new?) but it's providing the opportunity to explore all kinds of kinks whilst weaving a cool story between the episodic smut! If you're a fan of my oeuvre, I think you'll like it a lot!
For those looking forward to my take on 'billionaire erotica', which I previewed last month, worry not: I'm beavering away at that simultaneously. But the slow-burn plot means it's turning into more of a novella and so requires a little more time to get ready. I'm making good progress though – hopefully you'll have an extra stocking-filler for Christmas!
BTW, thank you to everyone who completed my reader questionnaire: it really helped me get some valuable feedback about what I'm writing and what you want more (or less) of. And the winning participant has already submitted her brief for some bespoke erotica that I'll be sharing with you all very soon (thanks Dawn!). You can find a summary of the feedback further down this newsletter.
Speaking of the survey, one astute reader pointed out that while we can all appreciate a nice pair of boobies, it might be nice for my introductory eye-candy pics to feature the male form every once in a while. I couldn't agree more! So scroll down past the perfect pecs and beautiful breasts on these pair of poolside posers for the usual treats!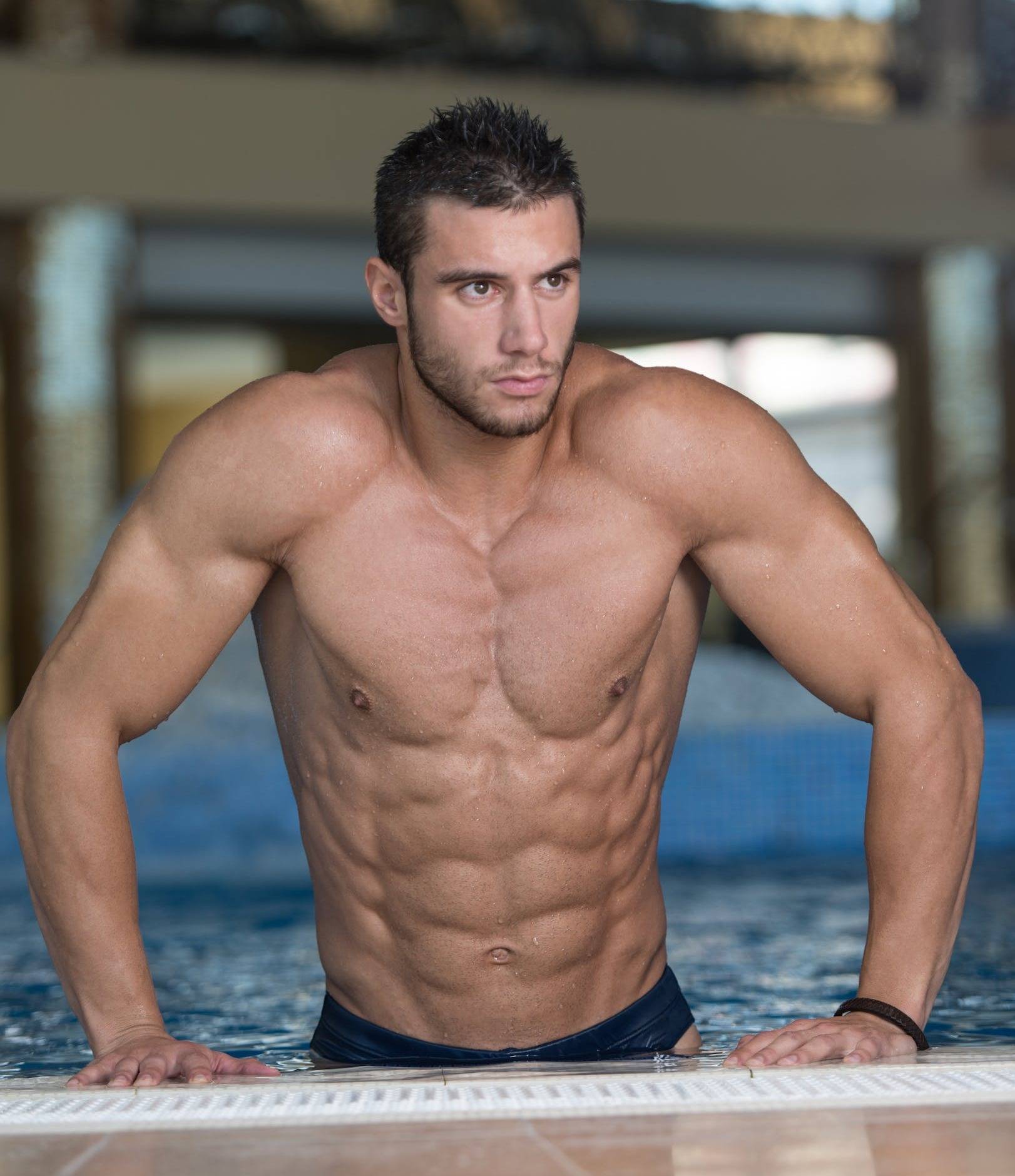 ---
A New Series of Erotic Adventures
The 'Sexhibitions' are now open...
What's this all about, then?
In this new series of escapades, an audacious modern artist has created interactive sexual installations around town that encourage his fellow citizens to unleash their filthier sides. This first book tells the story of the first woman to discover his first masterpiece: an ornate and considerately-designed glory hole! (And how it triggers her long-buried sexual appetite!)
What's the inspiration?
Clearly, fellow countryman Banksy was on my mind when I concocted this premise. In fact, the characters in these stories refer to the anonymous artist as 'Wanksy'😂. The mystery of who creates these installations (and why) is touched upon throughout the series as we follow the investigations of a pretty young reporter who visits the town to find out more – and gets a little too involved in her subject matter.
But... why?
Ha ha... who knows how these ideas take form in the filthier recesses of my mind? Suffice to say it provides the perfect opportunity to explore lots of different kinks and scenarios where ordinary people are tempted into behaving in sordid and debauched ways... which is one of the things I particularly enjoy writing about and – if your survey responses are anything to go by – you guys enjoy reading!
---
Featured title:
Uncanny Ecstasy
What's this all about, then?
Well, I could just sum it up by just saying: SeX-Men.
But to clarify, this full-length novel (75,000 words, bargain fans!) tells the story of an awkward college boy who is using his newly-discovered superpowers to peep on naked women. But his moral compass is given a swift reorientation when he's introduced to a group of similarly-gifted sex workers whose nemesis uses his abilities in even more nefarious ways. And to defeat him, they'll first need to have a lot of crazy sex...
What if I'm not much of a sci-fi or comics fan?
I really leaned hard into the 'magical realism' for this one. How would someone actually react or behave if they had super-powers? (And was also a kinky sod?) So despite the powers, it's pretty grounded – and gives me the opportunity to describe sexual encounters that would otherwise stretch my usually-enforced boundaries of plausibility!
Such as?
Well, imagine how a sexual encounter would be improved if a man had the preternatural endurance to stay hard no matter what. Or could trigger an orgasm with just a touch. Or if a woman could look like anyone she wanted? Or could change her body shape to suit the desires of her suitor? All these scenarios are explored – and more – in this epic smut-fest!
That book cover looks... familiar
---
Survey Results!!
Thanks to everyone who took the time to respond to my reader survey. Let me give you an overview of what you guys told me (and if you vehemently disagree with this summary, you can still submit your feedback using the link at the end!)
Same style, different scenarios and kinks
Respondents were very complementary about my writing (thanks!) and asked that I don't deviate from my usual style – but to explore different scenarios and kinks. This is music to my ears because I love trying new things and exploring different genres without having to change too much the way I write. So we're all on the same page here!
Keep things realistic
I have the odd foray into the fantastical for those respondents that indicated they liked it (see 'Uncanny Ecstasy' above) but the majority of readers said they like it when I keep things semi-plausible. That feedback ensured that I chose 'Sexhibitions' as my latest series rather than a more fantastical idea I was toying with. So your feedback really does have an impact on my output!
We all like a freebie – but you don't mind a bit of chat too!
I was so pleased about this. Of course the freebies I offer were singled out for praise but a big majority also said that they loved my newsletter introductions, the saucy pics and the various interactions I have with my readers. Which made me feel all warm and fuzzy inside 😂
You're not that fussed about the Medium freebies
I'll admit I'm a little puzzled by this one. I mean, they're free after all! To be honest, changes to the Medium earning model has made it next to impossible for occasional writers like me to make a profit from their platform, so the way I reward you with free content might change in the future... I'll have a think.
We have a winner!
I randomly plucked an email from all the respondents and the lovely Dawn has gratefully delivered her brief for a naughty short story written for her particular proclivities! Let's just say some rope may be involved!
*Bear in mind, the competition aspect is now closed and the winner has been selected.
---
Check out some of my other titles
Have you read all my books yet? There's something to suit everyone. You can check out the whole library at books.hawklanderotica.com​
Here is a small selection of my favourites...
From $2.99/£2.49 or FREE with Kindle Unlimited
---
Check out these other books...
Some red hot recommendations this month!
Theresa Moore gives you a hired 'fake' boyfriend who becomes so much more! L.P. Harper introduces us to a stripper who gets besotted with a client. Cassidy Lish wants you to meet a free-spirit looking for uncomplicated, uninhibited interactions! And Cornelia Quick takes you on a girls' casino weekend that turns all sorts of filthy...
---
Gimme dem freebies!
This month I've got chiseled chests and bare bottoms! And those are just on the covers! Check out these sample stories and see if you've found a new (second) favourite author!
And don't forget this bumper collection of reader magnets. Lots of familiar covers in here, I'm sure - but some new gems in there too!
---
That's all folks!
Thanks for sticking with me and continuing to read my dirty stories. I'll have more next month to warm you in the increasingly chilly days ahead!
Remember, you can send me a tip if you want to thank me for my efforts in a way that actually changes my life a bit (I'm not kidding!).
Until next time... stay kinky x